July 9, 2015 - ESILAW 360 is now available!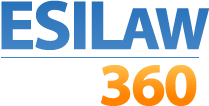 Our brand new practice management and accounting software solution for law firms is now available. Completely redesigned from the ground up, ESILAW 360 provides a much more efficient user interface and the latest technology to your law firm. If you would like to give ESILAW 360 a try download a 30-day free trial and experience what it has to offer. We hope you like it and look forward to your feedback and suggestions.
May 25, 2015 - We're Almost There!
ESILAW 360 Desktop is literally just around the corner. We've been working furiously to complete this project and to deliver to you the best solution on the market for legal practice management and accounting. Just a few more weeks and we'll be ready for launch so keep your eyes and ears open for more details about the upcoming launch.
Apr 2, 2015 - ESILAW 360 Update
Our team is working hard to finalize ESILAW 360. While we had to push the release date up, we are aiming to have it ready sometime in May or June. The delay is to ensure that we address all issues prior to launch so that any transition from the current version of ESILAW to 360 is seamless. A product feature comparison document, upgrade pricing and other information related to the ESILAW 360 launch will be made available shortly!
Jan 13, 2015 - ESILAW 2015 Now Available!
ESILAW 2015 is now available for download for ESICare subscribers. You can find out more about what's in this latest release by viewing the release notes. To download and install 2015.1 use the Check for Updates and Install Updates features in ESILAW.
On another note, we are very close to finalizing and releasing ESILAW 360, our brand new, completely redesigned practice management and accounting software solution. More information on this upcoming release will be made available in the coming weeks!
Nov 19, 2014 - Invite Friends or Colleagues to ESILAW and Get Rewarded!
We'd like to invite you to participate in our new ESILAW Referral Program. If you know someone who will benefit from ESILAW, send us a referral and you will get 10% of the total sale amount or the equivalent in a Charitable Gift Card. Simply fill out the referral form on our website and we'll do the rest!
Oct 21, 2014 - ESILAW 360 Desktop in Development
We've rewritten ESILAW from the ground up with a focus on helping you record, manage, and report on information much more efficiently. Every aspect of the new ESILAW 360 will help you accomplish tasks faster and with more flexiblity, from managing clients and matters to transaction entry to creating bills. We're in the testing cycle and hope to deliver a finished product soon so stay tuned for more news on ESILAW 360!
Oct 21, 2014 - ESILAW 2015 Set for December Release
We're working hard on ESILAW 2015 and expect to release it by December. Keep your eyes and ears open for more news on this upcoming release, which features an enhanced lawyer balance summary report, discounts in Create Bills, a new deposit slip feature and more!
Aug 6, 2014 - ESILAW 2014 is Now Available
ESILAW 2014.1 is now available for download. This latest release features a new firm calendar that allows you share a public calendar with all users in the firm. In addition to the firm calendar, 2014 has many calendar updates as well as other enhancements and fixes. To download and install the 2014.1 release use the Check for Updates and Install Updates features within ESILAW. Release notes for 2014.1 can be viewed here.
Jun 4, 2014 - ESILAW 2014 is Just Around the Corner!
We're just about ready to release ESILAW 2014 so keep an eye out for news related to the upcoming release, scheduled for July. In this release you'll discover a new discounts feature in Create Bills, improvements to ICBC billing performance, a new Firm Calendar feature, color coded appointments and much more.
Sep 18, 2013 - ESILAW 2013 Just Released
ESILAW 2013.1 has just been released and is ready for download as a trial or demo, and through Check for Updates for existing ESILAW customers. This latest release offers a number of enhancements to existing features and the user interface to help current ESILAW customers improve efficiency and complete tasks faster. Included in this release is Electronic Funds Transfer (EFT) tracking and reporting, improvements to Bank Reconciliation, an enhanced Conflict Search report, an Import Balances tool for new firms, and much more. We've also added a new Snapshot feature in ESILAW Lawyer Desktop so that lawyers or timekeepers in mid to large-size firms can can monitor their own performance, monthly and yearly figures, and budgets. Be sure to check out the 2013.1.0 release notes for further information on the release or contact sales for more information.
Jul 5, 2012 - ESILAW 2012.2 Now Available and Featuring New Lawyer Desktop Application
ESILAW 2012.2 is now available. This latest release includes a brand new application called ESILAW Lawyer Desktop, for lawyers and timekeepers in the firm. It brings all of the practice management features of ESILAW such as calendaring, client and matter management, and time tracking into a streamlined, compact, easy-to use interface designed to maximize productivity.
In addition to ESILAW Lawyer Desktop, we've made numerous other enhancements to ESILAW including several changes to trust transfer to pay A/R features, a new aging categories option for aging reports, and improvements to data verification reports.
For more information on this latest release view the 2012.2 release notes.
Oct 19, 2011 - ESILAW 2012 Now Available
ESILAW 2012 has just been released and is now available for download. This latest release includes a reprint checks feature, improvements to closing and re-opening client files, enhancements to Timetracker, a bill template editor, and several other minor improvements and fixes. Trials and demos can be downloaded by visiting the trial registration page. Existing ESICare subscribers can download the 2012 update using Check for Updates.
For more information on the 2012 release view the 2012 release notes.
Nov 29, 2010 - ESILAW 2011 Released More New Features and Enhancements
ESI Software, Inc. announced today the release of ESILAW 2011.1, the latest update in the ESILAW family of products. This version includes a number of billing enhancements such as automatic bill recalculation, a new invoice journal report, e-mailing of bills and statements, and several other features.
"We've been working hard on 2011 and are excited to finally release it as it offers several new, practical tools for law firms." said Michael Saville, VP Operations at ESI. "We've added a number of new billing features such as an adjust bills feature with automatic recalcuation of bill totals, and entry of soft costs and anticipated disbursements. This makes our billing toolset one of the most powerful and flexible in the industry. In addition, we've included new features such as an E-mail Manager to e-mail bills and statements to clients, an invoice journal report, and limitation diary enhancements. We hope our customers will be pleased with this release as it includes a number of practical, time-saving features."
For more information on the 2011 release view the 2011 release notes.